December 2012
Winter Solstice
The Winter Solstice is the shortest day of the year because the earth's axis is tilted farthest from the sun and, therefore, is also the longest night. Our ancestors took this very seriously, as darkness presented more danger as well as cold due to lack of sunlight.
Stonehenge marks the Winter and Summer Solstice
Many cultures and religions celebrate the longest night of the year with rituals involving fire, light, noise, singing- anything to lessen the impact of the darkness and to encourage daylight to return with the continuation of the cycle of the earth.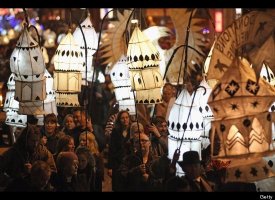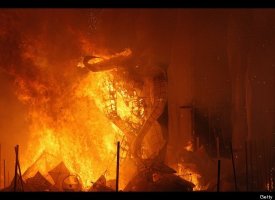 BRIGHTON, ENGLAND - DECEMBER 21: People carry lanterns at the Burning The Clocks Festival on December 21, 2011 in Brighton, England. The annual celebration is enjoyed by thousands of people who carry paper lanterns through the streets of Brighton culminating on Brighton Beach where the lanterns are burnt and the Winter Solstice is marked.
As gardeners, the short days of Winter cause us to look forward to the Spring planting season. One way we while away the short days until Spring is to peruse new seed and plant catalogs coming in the mail. As the days slowly lengthen, all seems possible in the upcoming growing season

When I buy seeds, I usually order on-line, but I use the print catalog first to carefully look at my choices for the upcoming season. Somehow, I think the paper catalog allows for more contemplation and comparison, than on-line listings.
The problem with those colorful photographs and glowing descriptions is, of course, that we order much more than we can fit in our garden space or than we have time to tend.
Overgrown Garden
But... what's a gardener to do? This is the perfect time of year to sit in a cozy house with a hot beverage and a stack of seed catalogs to thumb through and dream with. Each catalog has exciting new varieties to offer. Each variety of tomato sounds tastier than the last. Each piquant pepper will add just the right note to your salsa. Each new flower color will add just the right touch to your garden.
African Blue Basil
There is a danger in all those pretty pictures and descriptions, each plant seeming like the perfect choice for your garden. Not all plants do well in all parts of the country, in all soil types and in all situations. So, before you get completely carried away, there are a few things you should take into account when looking at seed and plant catalogs.
The first thing you need to know is your GARDENING ZONE. The US, and Western Europe, is divided into zones depending on the aveage coldest temperature of that area. TO FIND YOUR ZONE, VISIT THIS PAGE. Seed and plant catalogs list the hardiness for many varieties of perennials, especially. Winter hardiness isn't quite so meaningful for annuals, as they grow and flower during the warm season, generally, and do not over-winter. Also, winter hardiness isn't as important for vegetables that grow and produce during the spring, summer and fall.





This is my herb bed in winter of 2011-2012. The Herb Cottage is in Zone 8b.



Another guide which will help you grow better plants and not waste money is to learn the AVERAGE DATE OF YOUR LAST FROST. That way you'll know when you can plant out tender seedlings and seed warm season crops in your garden. You can count back from that date to learn when to sow seeds that take 8 weeks to grow before you can put them out after all danger of frost is past. Or, for hardy seedlings, such as broccoli, cabbage, and many herbs, you can put the the seedlings in your garden a couple of weeks before the average date of your last frost. You can find that information here. Remember, though, this is just an average, and your individual situation is likely to be a bit different.
If you live in the Southern US or in the milder regions of the West Coast of the US, your gardening decisions are a little different than the rest of the country. Certain crops do not grow well- or at all- in the hot Southern summers with our very warm and humid nights. As an example, broccoli, kale and lettuce are grown as winter crops in the South rather than summer crops.

Here is a printable schedule for Southern Fall & Winter Planting.






This is the Fall/Winter Vegetable Garden in tubs and containers at The Herb Cottage. This was taken in early November, 2012.



In some areas of the West Coast, you can grow these crops almost year round due to mild temperatures. Flowers such as pansies, violets and calendula are also winter growers in the South, and year round growers on the West Coast, even though they're considered annuals elsewhere.

If you're a newcomer to the Southern US or the mild West Coast, your best gardening information will be found locally- your county extension agent, regional magazines and gardening books and other gardeners. For information on Southern vegetable and herb gardening, there are links to websites that will answer lots of your questions on The Herb Cottage Links Page.
What can you do now, if you live in the South? Here's a quick rundown of current garden-related activities:
start tomato seeds indoors
start slow-growing & perennial herb seeds indoors: oregano, thyme, lemon balm, salad burnet, sage, parsley
work compost into your beds or containers to get ready for planting
read and enjoy those seed and plant catalogs!
Here is a printable schedule for Southern Fall & Winter Planting.
QUOTE FOR THE MONTH

One ought, every day at least, to hear a little song, read a good poem, see a fine picture and, if it were possible, speak a few reasonable words.
-Johann Wolfgang von Goethe, poet, dramatist, novelist, and philosopher (1749-1832)